Roll Shutter Systems Quality Control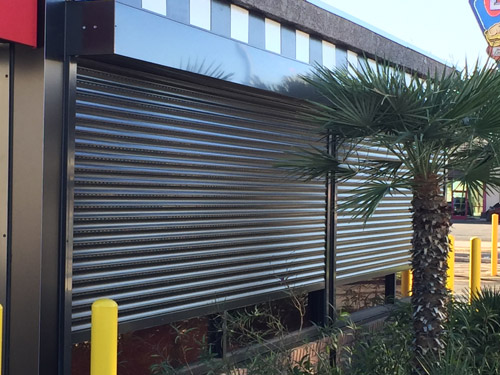 Roll Shutter Systems' shutters are engineered to meet and exceed the most stringent building codes in the USA. All components of RSS shutters are designed, fabricated, and installed to provide a smooth, quiet, and trouble-free operation. Our products are custom-made to the exact dimensions of the windows and doors and are available in a variety of designer colors. Roll Shutter Systems has spent years in ongoing research and development, constantly improving the manufacturing process and design of our products.
Our large inventory enables RSS to provide our customers with prompt and efficient delivery. Premium materials, state-of-the-art production equipment, and our new facility help us control important aspects of our product – top quality, competitive price, and minimal lead times.
Much of our success is due to our competent and dedicated staff providing the very best quality control and friendly customer service available today.
Why Automate Your Roll Shutters?
Thanks to our full line of quality motors and controls, you can adjust your light and shade conditions at the touch of a button. When sun shading, privacy, or security is not required, your motorized roll shutter can be retracted out of sight. Whether you choose the standard switches or the convenience of automatic controls, the possibilities and options are endless.
The roll shutters can even think for themselves. For example, sun sensors or timers can automatically lower the roll shutters as the sun becomes brighter but retract them when no longer needed. With our automated controls, you will use your roll shutters even more efficiently.
A complete range of automatic control options are available:
* Sun Sensors
* Radio Remote Control
* Programmable Timers
* Alpha Neo App – Connects to Your Wi-Fi Network
* Alpha Solar Operated Motors
* Digital Keypads
* Home Automation Systems Integration
Each sensor or control provides its own set of unique benefits. Radio remote controls allow you to raise or lower your roll shutter with the same convenience as you operate your television or home automation system. Programmable timers allow control based on the time of day. Battery back-up systems take over the operation in case of a power failure. All of our controls can be utilized in single or multiple applications.
Roll Shutter Systems has built an extensive dealer network throughout the US, and we're still growing. Our products are available from factory-authorized dealers who market and install the roll shutters with precise knowledge and 100% factory support.