Roll Shutter Systems Manufacturing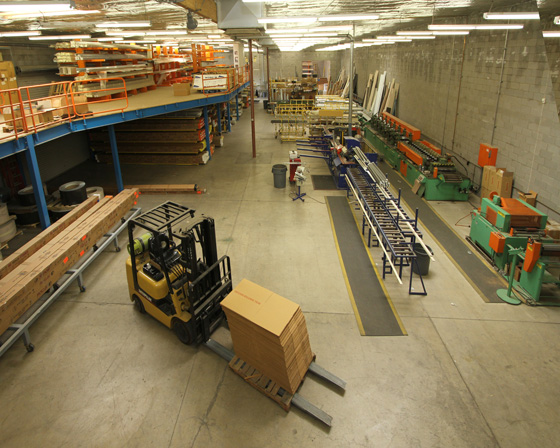 What sets Roll Shutter Systems apart from the crowd? Simply, Manufacturing!!!
Roll Shutter Systems has invested heavily in the latest technologically advanced machinery and a 16,000 sf, State of the Art Manufacturing Facility. These investments have made Roll Shutter Systems one of the Premier roll shutter manufacturers in the U.S. Many companies claim to "Manufacture" their product when in reality, they import the parts and components and assemble the roll shutters or purchase the product "Pre-built". Not here, every roll shutter is manufactured to exact customer specifications and with only the highest quality materials. We back up our product with a full 5-year manufacturer warranty. Producing a precision product such as ours requires precision machinery. Roll Shutter Systems has the only continuous roll-forming machine in the U.S., which produces the Housing portion of the roll shutter.
 We custom roll-form the housing in 3 sizes and 6 colors for local and wholesale use. Also, CNC controlled Profile machines and Precision Drilling machines, are used in the manufacturing process. The products we produce are shipped throughout North America, via an extensive dealer network.
When choosing a Roll Shutter company, "Don't Stop at Appearances", choose a company with a proven track record of manufacturing a quality product, every time. When you invest in Roll Shutters, you're not only investing in a product but in a company as well. We invite you to visit our factory and showroom, for a complimentary tour. See for yourself "What Sets Us Apart"!!
Please take a minute to view our Manufacturing Videos.
Roll Shutter Systems Products
Roll Shutter Systems' products are custom-built from the finest materials available today. Made of extruded and roll-formed aluminum and available in decorator colors, these quality shutters add beauty and value to your home or business.
Technology, Innovation, Experience, Selection. Personalized service
We hold all of those qualities to define what we do at Roll Shutter Systems. These attributes have made us the leading manufacturer and supplier of roll shutters and components in the USA today.
Now you can add protection, privacy, and insulation to your home at the touch of a button. Roll shutters provide an instant 'safety shield' to the exterior windows and doors of your home. They conveniently roll up and out of sight at the simple push of a button.
Roll shutters provide a two-way thermal barrier for your windows and doors to shield out the heat and cold. They reduce heat gain and air conditioning costs in the summer and keep out the cold to reduce heating costs in the winter. For insulation, acoustics, and strength, each profile is filled with a durable polyurethane foam core. All our profiles have been rigorously tested for impact, fire, wind load, airborne sound, and thermal resistance (R/U Values) at several qualified testing laboratories.
Handsome designs complement your exterior decor without hiding your windows. Rugged construction protects and insulates while manual controls or electric motors assure easy and dependable operation. The electric motor is fully contained within the axle of your roll shutter for a clean, concealed installation that blends right into the lines of your home. The motors are so they require no maintenance, providing years of trouble-free use. State of the art finger-tip control will raise and lower your roll shutters with the utmost ease, or choose one of our automated controls to operate groups or even an entire house full of roll shutters.