RSS products are shipped throughout the United States, Canada, Mexico, Puerto Rico, and other countries for installation. All of our roll shutters are manufactured to exact customer specifications to ensure proper functionality.
By using only the highest quality aluminum and other materials, RSS has become known industry-wide as the "Standard" for roll shutters.
From our automated production machines to our state-of-the-art manufacturing facility, RSS has the production capabilities to provide quick turnaround times and delivery of orders.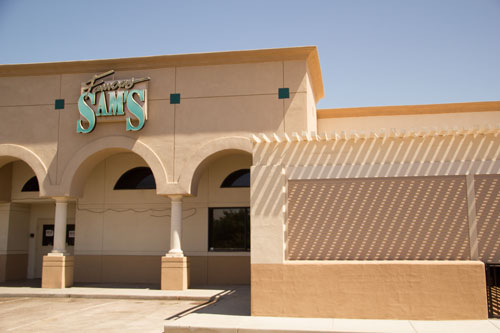 Roll Shutter Systems Celebrates 38 years of Manufacturing, Shipping Nationwide and Installing Roll Shutters Throughout Arizona.
​
Roll Shutter Systems is the premier manufacturer of Roll Shutters and Solar Shade Screens. We have our own manufacturing facility in Phoenix, Arizona producing the highest quality Roll Shutters and Solar Shade Screens.
Please take a look at our manufacturing facilities and read about our commitment to quality.
Roll Shutter Systems, Inc., is pleased to announce our new Heavy Duty RSS EX40 Profile. This new profile is made of aircraft quality extruded 6105 T5 aluminum. After a year of engineering and testing, the new RSS EX40 is proving to be our flagship profile.
In the fully closed position the roll shutter is an aesthetically pleasing solution providing excellent sun and weather protection, security from intrusion, and superior insulation.
A unique feature of roll shutters is the vented position. While in this position, roll shutters provide built-in ventilation: you can control sunlight and air circulation throughout your house while maintaining total privacy. You have 100% total control – all at the touch of a button.
Energy-saving and thermal control​
Roll shutters also have great energy-saving and thermal control advantages. Indoor temperatures can be controlled by installing roll shutters over windows and doors. Your home will be cooler in the summer and warmer in the winter.
You can save even more because rolling shutters help protect your carpet, furniture, and artwork from damaging UV rays – indoors and out on the patio. Decorate as you desire and everything will remain bright and beautiful year after year.
Privacy and Light Control
Roll shutters offer the benefit of a protective barrier from unwanted noise and light. Foam-filled aluminum shutters both reflect and absorb sound waves away from your home. Instant privacy is easily obtained by the simple touch of a button – day or night.
Roll shutters provide an effective deterrent to burglars. The fact is, the average burglar requires only seven minutes to enter your residence or business and make off with your valuables. Studies claim that most burglars will pass by homes with physical deterrents such as roll shutters and look for easier victims. Roll shutters also provide an excellent barrier of protection against vandalism and even the errant golf ball.