Roll Shutter Systems Dealer Information
The premier manufacturer of Roll Shutters and Solar Shade Shade Screens. We have our own manufacturing facility in Phoenix, Arizona; producing the highest quality Roll Shutters and Solar Shade Screens. Please take a look at our manufacturing facilities and read about our commitment to quality. See why becoming a Roll Shutter Systems Dealer is the right choice for you!
Why Partner with a winner like Roll Shutter Systems?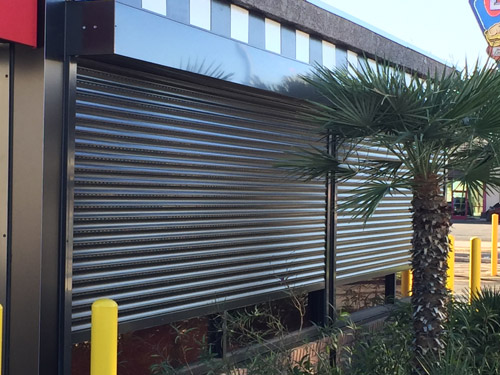 Roll Shutter Systems is a "Prime" manufacturer of roll shutter parts and components. All Roll Shutter Systems products are produced at our new state-of-the-art facility in Phoenix, Arizona. With our investment in the most technologically advanced equipment, you can rest assured that our products are manufactured to exact specifications with on-time delivery.
Roll Shutter Systems' products are manufactured using only the highest quality materials. From aircraft quality aluminum alloys to polyester powder coat finishes, our roll shutters are second to none. This convenient access to superior materials effectively eliminates costly delivery delays and inflated prices associated with European imports.
We work with architects and engineers to develop the best environmental and security solutions for new or remodeling contracts. End-users of Roll Shutter Systems' products are assured long and reliable service from products of proven quality and reliability.
Roll Shutter Systems supports this with the most extensive guarantee in the industry.
We are direct distributors of Alpha motors and controls, Stafer parts and components, and Verolux Premium Profiles. Roll Shutter Systems stocks the full range of automated and electronic controls for residential and commercial applications. All motors are backed by a 5-year manufacturer's warranty.
Roll shutters by Roll Shutter Systems may just be the high quality and profitable product you've been looking for! For more information regarding our dealer opportunities, contact the factory directly at 623-869-7057 or 1-800-551-7655.
Roll Shutter Systems has built an extensive dealer network throughout the US, and we're still growing. Our products are available from factory-authorized dealers who market and install the roll shutters with precise knowledge and 100% factory support.
RSS products are shipped throughout the United States, Canada, Mexico, Puerto Rico, and other countries for installation. All of our roll shutters are manufactured to exact customer specifications to ensure proper functionality. By using only the highest quality aluminum and other materials, RSS has become known industry-wide as the "Standard" for roll shutters. From our automated production machines to our state-of-the-art manufacturing facility, RSS has the production capabilities to provide quick turnaround times and delivery of orders.
We invite you to see for yourself why more and more companies are choosing RSS products for higher quality and profitability.